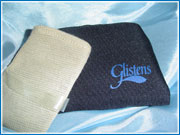 Glistens is the premier product of Eloge Enterprises LLC.

Eloge Enterprises LLC, owned by Debra Stokes, develops, manufactures, and markets innovative quality products designed to support and enhance the lives of mature women. The company conducts all business operations based on the highest moral and ethical standards as defined by the values of the Christian faith.

The initial concept of Glistens began in March 2004.

MARIETTA, GA - The search for a discreet way to cool down in public when a hot flash hits led Debra Stokes, of Marietta, GA, to create "Glistens," a cooling gel pack that fits in the palm of her hand and extinguishes the spark with a touch to her skin.

"It was all about me!" she said, laughing. "At church, I sing in a small group. One afternoon during rehearsal I sat next to a tenor in the group. All of a sudden, I pulled out some paper and started to vigorously fan myself, sweat pouring down my face." The young man's reaction to her attempts to cool down, and her response, motivated Stokes to look for a product that would relieve her symptoms. "He looked over at me and asked, 'What's wrong with you?' I looked at him and snapped, 'Think about it! Just think about it!'" The tenor became very quiet and did not speak to her again during the rehearsal.

A former television news producer and assistant to a corporate executive, Stokes knows that when she sits at a conference table - "with a bunch of men," she adds - a hot flash can hit at any time. She discreetly reaches into her purse and pulls out "Glistens" that fits in her hand, touches it to her face, and says, "O.K. Next on the agenda . . . ."

Menopause may be a natural element in womanhood, but the misery caused by hot flashes feels anything but natural. The most discussed symptom of menopause is a surge of heat that often begins in the face or scalp and moves down to the chest. Perspiration, sweating and/or chills can result and can last from a few seconds to several minutes or longer. For decades, women have longed for a way to continue daily multi-tasking responsibilities while dealing with the unexpected, and many times, visible effects of hot flashes. Stokes has discovered the answer in "Glistens."