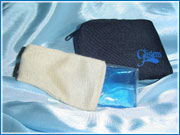 Glistens is the only product designed specifically to provide women with a solution to the problems caused by hot flashes - excessive perspiration and excessive heat.

Glistens features three components:
the soft, ultra-absorbent micro fiber towelette
the cooling ice blue, non-toxic gel pac
the insulated zippered carry case
The Glistens micro fiber towelette absorbs moisture quickly and "wicks" it away from the skin. The fabric used in the Glistens towelette is hypoallergenic and is woven to allow the moisture to evaporate quickly. The Glistens towelette is hand washable and reusable.

Made from the same material used in cold packs applied by physical therapists to treat muscular inflammation, the Glistens cooling gel pac requires as little as 30 minutes in the refrigerator to deliver smooth, chilled relief to your overheated skin.

The attractive Glistens black zippered pouch is more than just a pretty carrying case for your Glistens. The Glistens pouch is made of a special insulated material designed to keep your Glistens as cool as possible for as long as possible. It also features a mesh pocket on the outside for convenient storage.

All of these features are delivered to you in a single, discreet, personal product that fits in the palm of your hand. There's even a clear plastic strap to keep it in place.


Glistens
Cool Your Senses. Calm Your Spirit.